"It's time for a summer's eve with The Douche! It smells like a mint julep on a porch in here!"
The Attack
episode 4 aired on 23 February 2015. It was hosted by
Kevin Pereira
,
Alex Corea
, and
Milynn Sarley
.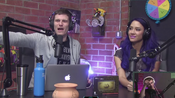 Milynn discussed her Team Unicorn and Fatal Fox projects.
In the Pile, John Travolta's weirdness at the Oscars and the effects of 50 Shade of Grey on Pornhub searches were discussed. The Fartmaster' was featured. The bad reviews of The Order: 1886 were discussed, Kevin did a quick dubstep remix of an Asian lady, and a crazy German bread-slicing machine was featured.
In The Rundown, they discussed:
Kanye West making a video game about his mother's death
Someone rebuilt Zelda 1 in Minecraft
Cell providers will preload Google Wallet on Android devices
EQWashu's velociraptors and PaintedRye's animations were featured.
TPOTSWIC followed.
The Old Man from Zelda (Anthony Carboni) appeared as a guest and read us his Yelp reviews.
The show ended with Milynn dressed as Zelda, smashing numbered pots for a Majora's Mask 3DS giveaway.