"Los, put your penis away! Not during the show!"
The Attack
episode 5 aired on February 25, 2015. It was hosted by
Kevin Pereira
,
Alex Corea
, and
Anthony Carboni
.
Every 10 subscribers added a new nasty ingredient added to "Twitchster," a Twister game played by Kevin, Alex, Anthony, and Los at the end of the stream.
The hosts improvised music over the intro graphics since the real music wasn't working.

Kevin played the flash game "Don't Shit Your Pants" on stream. A guy chewing gum from the Seattle gum wall, a device that weighs breasts before and after breast feeding, and a dude playing Game of Thrones on a theremin were featured.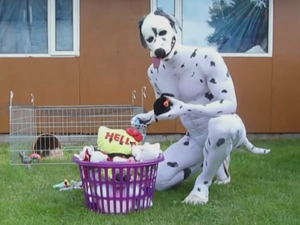 The "Wearable Tomato Project" and a guy dressed as a dalmatian playing with laundry were featured.
The show was "restarted" several times to fix problems with it.
Kevin showed a video of a blind man seeing his wife for the first time via technology and being underwhelmed. Anthony was salty over a fan video of a dark gritty Power Rangers reboot.
The Rundown discussed:
Valve teaming with a hardware partner to offer VR hardware (what would eventually become the Vive)
GTAV for PC pushed again, this time to April 14.
Pebble smart watch, and the purpose of Kickstarter
Kevin, Alex, and Anthony did an impromptu bit about calling "Steven Twitch" about the sub button being broken.
Anthony Talked about what it's like to cast Bill Murray in a movie.
TPOTSWIC followed, and then it was time for Twitchster to close out the show!