Evanne: "Why do you guys have a shock collar?"
KP: "Welcome."
The Attack
episode 99 aired on 4 November 2015. It was hosted by
Kevin Pereira
,
Alex Corea
, and
Evanne Friedmann
. This episode was Evanne's first appearance as cohost. Also, Black Magic gave the stream better cameras to use!
The show "restarted" several times for tech issues.
Kevin grilled Evanne about her conservative family. Then he grilled Alex about his ex-girlfriend Brittney who called him during a Let's Play stream the previous day. Evanne joined in and then Alex called Brittney on stream.
Evanne discussed so-called "Alpha males" and whether or not they actually get any.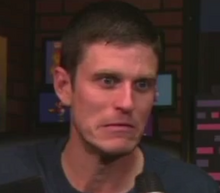 At this point the show went off the rails because of a ridiculous number of Twitch subs. Alex rebroke Kevin's bad finger, making this two episodes in a row that he'd broken someone's finger.
"This is fucking bizarre right now. I feel like I'm in a K-hole."
At 70 subs, Alex offered to call Brittney again and ask her a personal question about when they had sex, but she didn't answer. At 100 subs, Evanne would get to shock Alex with a shock collar.
Britney called back, and they asked her what was the most unsexy thing Alex ever did while trying to be sexy. It was amazing.
Promos got on camera so Alex could talk about his hoodie.
Once the show finally got back on the rails, Alex introduced a "Fallout or Flounder" game where Kevin and Evanne would guess whether a quote was a complaint about the new Fallout footage or an actual bad game. At the end of the game, they gave out a Fallout 4 code before the embargo was over, but the code turned out to be for Earth 2160 instead.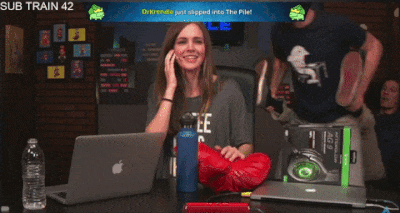 Green Light District featured:
Metal Shock Game
Perevodnik
Santa's Slave Drive (which was already down from Stream Greenlight when the show aired)
Blythe presented, and talked about The Babadook.
Attack Top Knewz
Edit
Blizzard started a classic games division
Xbox One backwards compatibility
Hearthstone getting one week of co-op
A person crossed the entire Fallout 4 map in 10 minutes
In Depth
Edit
Need 4 Speed creative director says no paid DLC
Google developed a way to autoreply to emails
Battlefront giving free access to preorders
The show ended with TPOTSWIC, and they ended getting a total of 104 subs!