"My name is Coral and I'm here to say...."
Coral Frederick is a producer on
The Attack
and the lead producer of
Let's Do It On The Table
. She also cohosts
Night of the Living Show
.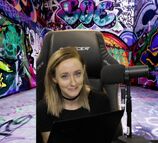 Coral is probably the quietest person in the studio, except when she gets a chance to opine on trashy reality TV, or when she's forced to spit fire barz. She makes most of the show's costumes and props, and she rocks a beanie like no other.
She's featured in the attkCoral emote.